Uniquely DC, LLC - dba Uniquely-DC.com © 2015
Uniquely DC - Washington DC Event and Meeting Production 7895-N Cessna Avenue, Gaithersburg, MD 20879



The Uniquely DC, Washington DC Special Events Production Team is based in the the Washington, DC Metro area and regularly services the District of Columbia, Baltimore, Maryland and Virginia markets with high quality convention and meeting services. We know meeting production in the USA!..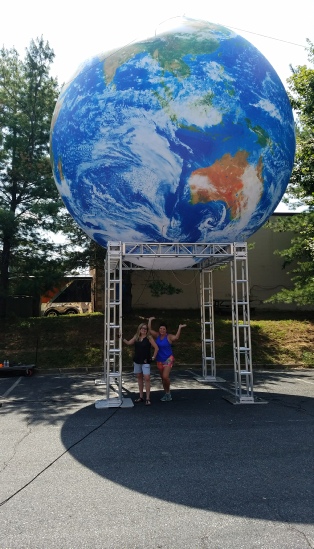 Renting a giant Earth Sphere will make a dynamic impression at your next festival, concert, press event, parade, tradeshow or conference. Our amazing inflatable World Globes truly attract attention and draw the crowds in. Our Earth Balls are even lighted on the inside so they make a grand statement day or night. Our sizes range from 1 meter (3.2 feet) to 20' diameter.

Did you know "air" has weight. A cubic foot of air weighs 0.0807 lbs. Therefore, the 4188 cubic feet of space weighs 338 lbs plus the 75 lbs of the vinyl. 400+ lbs needs a very
Good support system. "Practice set up!"
Giant 20' Diameter Earth Sphere Globe as the centerpiece to a major outdoor event.
6' Earth Sphere Globe as the centerpiece to an exhibition at a Washington DC Hotel.