Washington DC Special Events Planning and Custom Fabrication Source
The Uniquely DC, Washington DC Destination Management Team is based in the the Washington, DC Metro area and regularly services the District of Columbia, Baltimore, Maryland and Virginia markets with high quality convention and meeting services. We know meeting production in the USA!
Uniquely DC, LLC - dba Uniquely-DC.com © 2015
Uniquely DC - Washington DC Destination Management
8048 Cessna Avenue, Gaithersburg, MD 20879
Washington DC Casino Events & Casino Parties
The Uniquely DC team will seamlessly integrate a wide range of services into your meeting, convention or annual conference in Washington DC, Baltimore or across the United States. You will see uncompromising quality in the services we deliver -and- show you a significant savings in your meeting's budget. Our Washington, DC. DMC - Destination Management professionals are there to ensure your meeting's success. While managing and implementing the conference infrastructure, they also coordinate the team efforts of all subcontractors with our client. We manage timelines and milestones, meeting your expectations and stay in continual client communication. We meet and often exceed on all conference objectives. While we play a role in virtually every meeting service our team is directly accountable for the following areas:

Technical direction-stage management - Uniquely-DC has the skills to effectively deliver your message.

Business Meeting Production
Uniquely-DC will carefully handle the logistics for your meeting registration, events and accounting.

Meeting Logistical Services
Uniquely-DC is experienced in creating the communications centers vital in keeping your guests informed.

Computer Technology Centers
Uniquely-DC will manage your exhibits and assure the delivery of a high quality experience at your meeting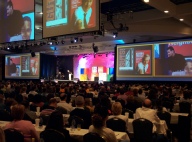 This is a critical element in training and the proper delivery of important information. Uniquely-DC is ready!

Simple yet effective single screen solutions to multi screen elaborate sets- Uniquely-DC makes a difference.

Our team at Uniquely-DC has seamlessly shuttled hundreds of thousands of people over the years.

Transportation / Destinations
From novelty acts for your receptions to dinner and dance bands to national headline entertainment - we entertain.

Your Washington D.C. Metro Area Destination Meeting Professionals are ready to Deliver your Message!
Power Up Kiosks -Mobile Charging Stations
Uniquely-DC now rents iPad, Tablet & Cell Phone Charging Stations to "Power Up" your Next Washington DC, Baltimore or Alexandria Conference, Tradeshow or Special Event!
People rely heavily on mobile technology to stay connected. While attending Conferences, Trade Shows, and events, people are relying heavily on their mobile devices which are often the key to networking opportunities. Our Power Up charging stations keep business connected! Your attendees need mobile charging stations to keep their devices fully charged and operating flawlessly. Our smart phone / cell phone charging stations also have tablet/iPad charging capabilities that provide your attendees with the power they need to ensure they stay connected. Custom graphics are designed and produced in-house!
Email: sales@Uniquely-DC.com